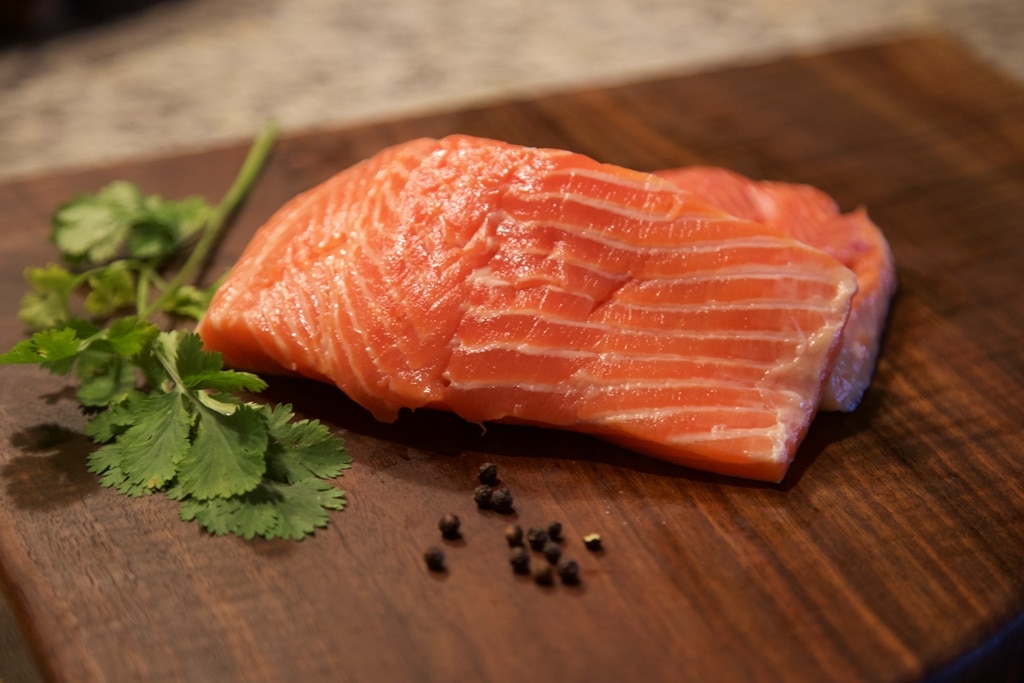 Species Name:
Oncorhynchus mykiss
Sustainability Rating:
Multiple Options Available
What:
Steelhead and Rainbow Trout are actually the same species. However, Rainbow Trout lives in freshwater only while Steelheads migrate to the open ocean.
When:
Available Year-Round
Where/How:
Where: California, Washington, Scotland and Iceland
How: Farm Raised
---
Check out this video below from Dawnfresh (Producer of Loch Etive Steelhead)
Back to Product Guide
Characteristics

Steelhead has many salmon-like characteristics. Like Salmon, Steelhead Trouts are anadromous meaning that they hatch in freshwater, migrates and mature in the open ocean and then returns to freshwater to spawn.
Steelhead is considered one of the healthiest fish you can eat.  It is an excellent low-fat source of protein and it meets the daily minimum requirements for omega-3 fatty acids.
For Your Menu
Steelhead works great as a lunch or dinner item and even pairs well with eggs or in a unique hash recipe on your breakfast menu. The flesh cooks up moist and flaky with a rich texture and buttery flavor.
This fish is very versatile to work with and can shine in a variety of preparations. Steelhead Trout can be poached, roasted, grilled or broiled; it can also be smoked or cured.
For Your Waitstaff

This healthy option is great for Salmon lovers and non-salmon lovers alike, since its flavor is similar, but more mild. Like Salmon,  Steelhead Trout pairs well with a variety of wines, including lighter reds like Pinot Noirs but can also work in a more casual setting with a variety of beer types.
For Your Retail Display

With its deep red flesh color, Steelhead Trout will definitely liven up any fish case. Make sure you have plenty of ice all around to make the fillets pop – customers will definitely stop and stare! (this would be a perfect time to encourage them to give Steelhead a try!)